The Spampots Project, coordinated by CERT.br and part of the honeyTARG Honeynet Project, uses low-interaction honeypots to gather data related to the abuse of the Internet infrastructure by spammers. The main goals are:
measure the problem from a different point of view: abuse of infrastructure X spams received at the destination
help develop the spam characterization research
measure the abuse of network infrastructure to send spam
develop better ways to

identify phishing and malware
identify botnets via the abuse of open proxies and relays
Data Mining Research

The spam characterization and data mining research, SpamMining, is being developed by the e-Speed Laboratory, from the Federal University of Minas Gerais (UFMG) Computer Science Department (DCC).
The SpamMining is led by:
Papers in Portuguese
Current Setup
Currently we have sensors deployed in 16 countries. These sensors were deployed with the invaluable help and cooperation of these organizations (ordered by country names): CSIRT UNLP (Argentina), AusCERT (Australia), CERT.at (Austria), CSIRT USP (Brazil), Team Cymru (Canada), CSIRT CEDIA (Ecuador), Team Cymru (Germany), HKCERT (Hong Kong), Team Cymru (India), IIJ - Internet Initiative Japan (Japan), SurfCERT (Netherlands), Team Cymru (Netherlands), Team Cymru (Singapore), Team Cymru (United Kingdom), Team Cymru (United States), TWCERT (Taiwan), and CSIRT ANTEL (Uruguay).
All data is collected periodically by CERT.br, and used to generate statistics of the current behaviour, as well as stored in the data analysis servers, to be processed by the SpamMining team. This is an overview of the Architecture: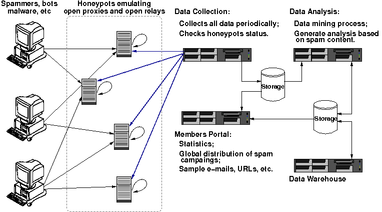 In a previous setup, from 2006 to 2007, the honeypots were located only in Brazilian Broadband networks, and were used to understand the abuse of these specific networks. Information about this first phase of the project can be found here:
Papers in English